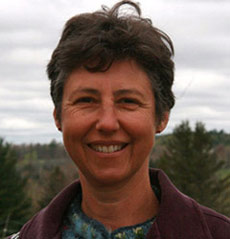 CHRIS YENTES has been practicing midwifery in the Mid-Coast area since 1993. Her interest in midwifery began in 1981 when she had the good fortune of attending the birth of her best friend's daughter. Watching the role of the midwife and seeing the power of women during birth ignited a flame for being with women throughout their births which she has followed to this day.
After having three children Chris began pursuing her goal of becoming a midwife. She graduated from a Basic Midwifery Skills Course in 1993 and began an apprenticeship which lasted three years. The ensuing years have been full of many memorable births. In 2003 Chris became a Certified Professional Midwife and continues to keep her certification current as well as being a member of Midwives of Maine and Midwives of North America.
Chris comes from a long line of women who have attended women as they birth. Her grandma Bobby was the nurse on duty and took care of her the day she was born and her great-grandma Nonnie was a midwife who had a 'home' for birthing women in Indiana. It is on their shoulders that she stands.
When not busy with midwifery, Chris is busy with a large garden, spinning and knitting. In the fall of 2007 she became a granny midwife. Her grandson continues to delight her and fill her heart with joy.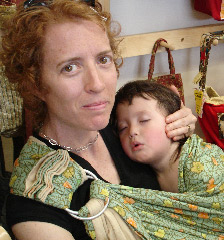 JULIE HAVENER has been involved with Midwifery since 1994. After graduating from the Evergreen State College, in Olympia, Washington, she attended courses at The Seattle Midwifery School. Thereafter she attended births as a Doula. Affirming her love for the work she furthered her commitment to midwifery and spent three years apprenticing in Belfast, Maine.
After many births, she completed her apprenticeship and followed it up spending a month in Jamaica working with midwives in a rural hospital. Returning with even more fire in her belly for working with women and families, honoring the beauty of birth, she completed the process of becoming a Certified Professional Midwife.
"The natural beauty of pregnancy and birth never ceases to amaze me. I feel blessed to witness this again and again, honoring the diversity and wisdom each woman and family bestows upon me."

CHRIS AND JULIE have attended births together for twelve years. Combined they have been present for some 500 births. This has given them a wide view of what normal birth looks like, and a strong foundation to see each woman and her birth as unique.
One might think the wonder and awe of watching a baby born makes the job of being a midwife special, but for Julie and Chris, the time spent with women and their families prior to the birth is where the wonder begins. Being allowed into peoples' lives and homes, seeing women and their families go through the transformation of pregnancy, birth and postpartum is an honor. Watching the power of women as they birth their babies and being surrounded by the flood of emotions that shift from hard working determination to awestruck love keeps this work fresh and delightful each time a baby is born.
It is Chris and Julie's hope that each woman will receive the respectful and loving care that she deserves during this watershed time in her life, whatever her choice of care should be.